January/February 2013
Work for All 2012 Year in Review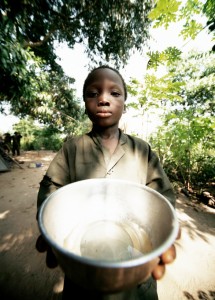 The past year has seen memorable, historic and tragic events around the globe. Natural disaster ravaged the north eastern United States, war raged on in the Middle East, and an unprecedented famine devastated the Horn of Africa.
However, we have also seen progress in poverty reduction and an increase of opportunities for the world's poorest. Africa is now one of the fastest growing economies in the world and we are embracing new technologies that allow us to connect, globally, like never before.
Over the past year, Work for All has researched the best initiatives around the world to aid in helping eradicate systemic poverty. We'd like to take a moment to highlight where your generous contributions were allocated:
-Work for All supported the United Nations Development Programme (UNDP) in bringing infrastructure to East Africa, where over 13.3 million people were in urgent need after the worst drought in their recent history.
-Through the UNDP, we have also supported a program that is working to educate and empower women in India. To date, this program has educated over 12,000 women and created over 4,000 entrepreneurs.
-We supported Plan International, who is working to help children escape from poverty in over 50 countries. Plan's projects provide education, water, sanitation, health care, and infrastructure in communities throughout Africa, Asia, Central America, and South America.
-We are now proud to now be working with WaterCan to help the world's poorest learn how to access clean water and basic sanitation.
The Millennium Development Goals were set in 2000 with the mandate to cut global poverty in half by 2015. This goal was reached in 2012, thanks to economic progress in Asia and India. Measurable goals were set to track extreme poverty and hunger, education, women's empowerment and gender equality, health, environmental sustainability and global partnership. The 2012 reports, for the first time, show that the number of people living in extreme poverty has fallen in every developing region.*
Last month we reported that Work for All is now an International Public Foundation. We are very excited about what 2013 will bring. Expanding into the United States will broaden our scope and potentially allow us to reach more people than ever before.
Much has been accomplished in 2012; however, there is still a lot of work to be done.
Thank you for continuing to help us eliminate systemic poverty in the world.
– Melissa Lopes
Family Notes: Holding Hands
A few years ago, I was eating dinner with my family and friends. Richard Hess, the US Air Force pilot (retired) who trains me on the Russian fighter jet I fly, was at the head of the table. He asked that we join hands in prayer, prior to the meal.
It was a great moment, but I did not think too much of it at the time. Later on that week, sitting down with my family for dinner, my four year– old son, Owen, sat up straight. He obviously wanted to say something.
"What is up Owen?" I asked.
"Can we hold hands?" Owen asked.
Since that night, on the evenings our family is lucky enough to eat dinner together, we always hold hands, give thanks for everything we have, and take turns telling each other about something good that happened that day.
– Jeremy Leonard